Madrona Musings: The Torrance Art Museum
FRIDAY, MARCH 9, 2012
Yvette Gellis: Ascension
<![if !vml]>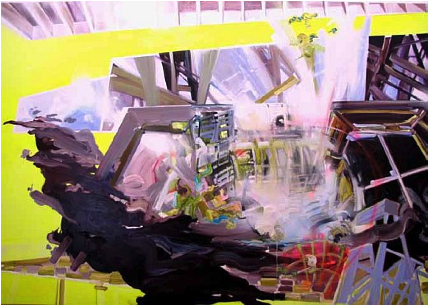 <![endif]>
With architectural hints receding into a radiant abstract space beyond the picture plane, Yvette Gellis' Ascension immediately grabbed my attention as I entered the gallery. Given the size of this painting, 9 by 13 feet, it felt as though one could fall into these swirling dimensions bounded by yellow voids and deconstructed structural imagery. A moment of awe, a mixture of confusion and delight, compelled me to give this painting a long and detailed scrutiny.
I am an enthusiast of urban landscapes, structural renderings, and architectural caprices of all sorts. Gellis' Ascension struck me as being somewhat of this category, a scherzo di fantasia for the post-modern world where the fragments of buildings dissolve into and emerge from an abstract chaos, a sublime potentiality.
Intrigued, I looked at Gellis' statement for the work, which reads:
"My childhood home disappeared into a tract housing development leaving me with a profound sense of loss. Within my memory are landscapes that contain objects, forms, and spaces that I play with, deconstructing, resurrecting, and changing to reflect the fleeting nature of the everyday world, emblematic of American economic cycles of growth, decline, and rebirth."
Whereas Old Master caprices dealt with cultural memories of a mythic antique past, Gellis makes it personal. Though vanished like a bubble in the stream of time, childhood persists within the memory and emerges transfigured and sanctified through the creative expression, realized anew in the painter's process. Out from an increasingly homogenized world, the painter can discover and express the profound, whether it is to be found in memory or among the overlooked beauty that surrounds us.
Later, I had to opportunity to talk with Yvette Gellis about her work.
"It's all here for us to see." She said. "Inspiration is all around us like thoughts in space. These structures, objects, contain history and memories. The painting is a stage in which to articulate, a process to manifest the painter's experiential realization of a spiritual impulse."
This process is captured in Gellis' work by the tension between the figural and the abstract, even down to the layering and application of the paint. Tightly rendered forms emerge from beneath vigorously applied thick layers of paint. Balanced and considered composition contends with impulsive strokes that express the emotions and inspiration of the moment. It is a struggle between dark and light, between destruction and creation, that Gellis finds as a vital inspiration within her work.
"I want to integrate the figurative back into art, but there's a constant struggle with the restraints of representation and the ambiguity of abstraction." She said. "They're fighting with each other all the time. In this duality of life, you have to find your own center. And, through this process of painting, you try to find the answer."

 <![if !vml]>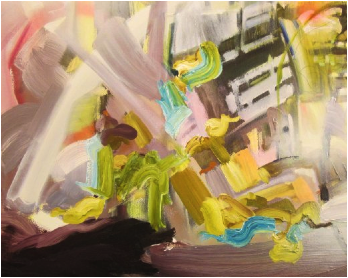 <![endif]>
Detail of Ascension (2011) by Yvette Gellis
When viewing Ascension, one can see this conflict and balance being worked out. But what of the large size and bold color?
"I'd like to triple the size. I want to capture the thoughts as they are in a space, visceral memories contained on the canvas, primal and true. Can I reduce these vast impressions down to a page?" She said. "And the color has a psychological quality, bold and invasive but uplifting to the spirit. In the face of hardship or loss, the brightness speaks of hope, that everything is going to be fine."
Gellis' process in composing her images starts by observing the world around her, taking photographs of buildings, walls, and other architectural constructs. Especially conducive to inspiration are those areas where space and light transition from exterior to interior, like an open door or a collapsed wall. Such areas pose an aesthetic dialectic for the viewer; the liminal quality of place creates an epistemic uncertainty from which one can create a new significance, an exalted new reality guided by memory and imagination towards some self-realized Pure Truth.
"It's a Romantic relationship that I have with painting, although I'm rather reluctant to admit it." She said. "I want to know where the painting is going. I want to be there pushing the process. There are so many questions to ask, and a lot of angst. But there's something profound, important. That's what I hope to share and experience with the viewers."
_ LAWRENCE RAMIREZ