WALK INTO ART: TWO ARTISTS IMMERSE YOU IN THE ARTWORK ITSELF AT THE 18TH STREET ARTS CENTER (Santa Monica, CA)

Korean artist Han Sungpil and Los Angeles based artist Yvette Gellis intend to suck you into the seascape as they take over 18th Street Arts Center.

Los Angeles, CA - January 7, 2011 - Colors, suggestions, and spaces collide when two artists from opposite sides of the world expand a building into a collection of color strokes and liquid imagery--transforming architecture into an experience of being enfolded by the artwork, where the opening of doors topples dynamic, dramatic color and painterly lines into the subtle tints of seafoam shades and the vast presence of the natural world.


The entire front of the world-renowned 18th Street Arts Center, where Yvette Gellis is in residence, will be wrapped with monumental imagery created from the combined works of two masters of artistic space. Han SungpilÕs oceanscapes simultaneously envelop the viewer and reinforce oneÕs aloneness in the immensity of the universe, using devices of scale, chroma and texture to evoke a sense of the sublime. Gellis then deploys her uncanny talent for melting two dimensions into three, using pictorial cues, extant objects and a theatrical, abstracted presence on the canvas, transforming two dimensions into a jolting, delightful sense of depth and theatrical structure.

The end result is the unmistakable feeling of being enfolded, invited with a flourish into the artwork itself--a hybrid of SungpilÕs classical, ascetic invocations of open space and the weight of a minimalistic and impassive, vast ocean, and GellisÕs flowing, growing, expressive brushstrokes. Imagery of doors, opening into the sea, incorporate a sense of the surrounding environment at 18th Street and transport the viewer--and the gallery itself--into a new world.

Call it a spectacle, call it magical, delightful, experiential, playful, transformative--however you choose to experience it, you can be sure it will be just that: an experience of art, rather than just a Òlooking atÓ of art. Except when you get pulled into Sungpil and GellisÕs ocean, you wonÕt have to hold your breath.
For more Information on Han Sungpil can be found at www.hansungpil.com
Information on Yvette Gellis www.yvettegellis.com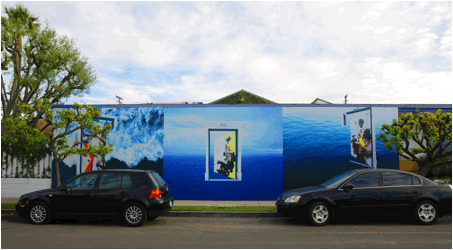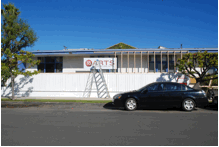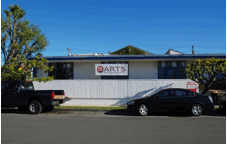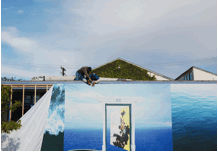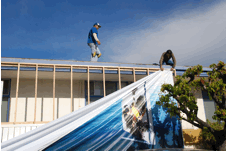 18th Street, Arts Centrer, Santa Monica, California (8th January 2011 ~ 31st December 2011)
ÒOpen Water,Ó an installation by Han Sungpil and Yvette Gellis

18th Street Arts Center, 1639 18th Street, Santa Monica, CA 90404

From January 8th 2011 to December 31st 2011.
Opening Reception: January 20th 2011 from 7:30 ~ 9:30 pm.