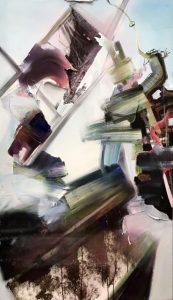 BENTLEY GALLERY – Phoenix, Arizona,
http://bentleygallery.com -ART DETOUR 29, 2017. 
-Part 1: February 17th to March 22nd
-Part 2: March 29th to April 19th  
-Curated by Grant Vetter
  – Abstraction in the Singular is a two show survey of painters from the West Coast and Arizona that have had a significant impact on how we think about the genre of abstract art. Running counter to the New York aesthetic of what Jerry Saltz recently termed "Zombie Formalism" we can say there is no way to lump the divergent practices of the painters that are included in Abstraction in the Singular into a particular school, trend, or ethos. By using the gestural and the geometric, the atmospheric and the iconic, the theoretical and the visceral in any number of hybrid ways, the artists in this survey challenge how we think about non-objective imagery as an integral set of pictorial relations.