BIO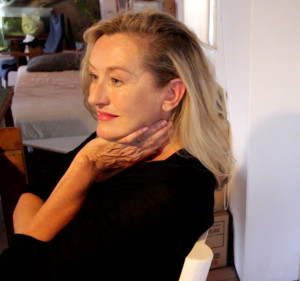 American artist Yvette Gellis lives and works in Los Angeles, California. After attending UCLA and Art Center College of Design in Pasadena CA, she received her M.F.A. in 2008 from Claremont Graduate University. Born and raised in the Chicago area, the vast open terrain in contrast to the urban sprawl set up structures for her painting that echo or reiterate the impermanent and mutable states depicted in her work. Or put another way, her painting is not simply static, an illusion or picture of an event, but allows for participation in the event itself. While ever conscious of historical precedents, she strives to expand upon the boundaries of painting.
Ms. Gellis has exhibited nationally and internationally including: The Pasadena Museum of California Art / The Landesgalerie Museum for Modern and Contemporary Art, Linz, Austria / Villenaux La Grande, St. Jacques Eglise, Dival, France / The Torrance Art Museum, California / Soulangh Cultural Park and Museum, Tainan / The East-Gate Museum, Cao Shan Dong Men Art Museum, Yangmingshan, Taipei, Taiwan / Los Angeles International Airport, LA Department of Cultural Affairs / Fellows of Contemporary Art, LA / West Art Gallery, California State University, Northridge, CA / Cerritos College Art Gallery, CA / The 18th Street Arts Center in Santa Monica and most recently her work has been seen in a solo exhibition "Verdure" at LA Louver Gallery in Venice, CA and included in two other group shows at LA Louver.
Among her many reviews, most notable are; The San Francisco Chronicle, The Los Angeles Times, The Huffington Post Arts, Square Cylinder, Art in America Magazine, LA Weekly, Art LTD, Art & Cake, Artillery Magazine, Hyperallergic, Taipei Times, ART Week LA and Art Scene LA.
Ms. Gellis has been awarded artist residencies with exhibitions in Taiwan, France, Austria, Arizona, and the 18th Street Arts Center, Santa Monica.
Her work is included in numerous private and public collections.
STATEMENT
Yvette Gellis combines the flatness of abstraction with perspectival figuration in a deliberate effort to confound a sense of space. The site-specificity of her installations, whether indoors or outdoors, challenge traditional ways of viewing painting or experiencing the landscape, or an interior architectural space.
"Her monumental paintings exist as wavering thresholds, indeterminate intermediary space between the grounded reality of the viewer's domain and the nebulous, intangible, shifting pictorial space that lures us in with high contrast tile ground plane shapes beckoning us to explore the deep space beyond our physical reach. The pieces tumble into our real space, like architectural ruins of a futuristic empire, disassembled and dissembling a painting, irreverent, audacious and glorious." (By Mahara Sinclaire)
"Most recent work, operates at the crossroads of the visceral and the intellectual, deftly layering charcoal, paint and collaged imaginary to construct Arcadian scenes of the natural environment. The landscape recedes into a nearly mystical space dissolving in both light and shadow, while pronounced swaths of impasto paint are physical reminders of the artist's presence. She creates this meditative interpretation of the natural world while traversing the ever-shifting boundaries between representation and abstraction, or, rather, between notions of control and elements of chance. The cyclical motif of the leaf provides Gellis with an imagistic structure, surpassing traditional tropes to represent not the ephemeral, but the omnipresent. A departure from traditional notions of the landscape, there is no implied narrative here, no defined relationship between humanity and the environment created by the artist and presented to the viewer. Instead, Gellis offers a space to inhabit and meditate upon the notions of chance, choice and the omnipresence of nature." (By Molly Enholm)