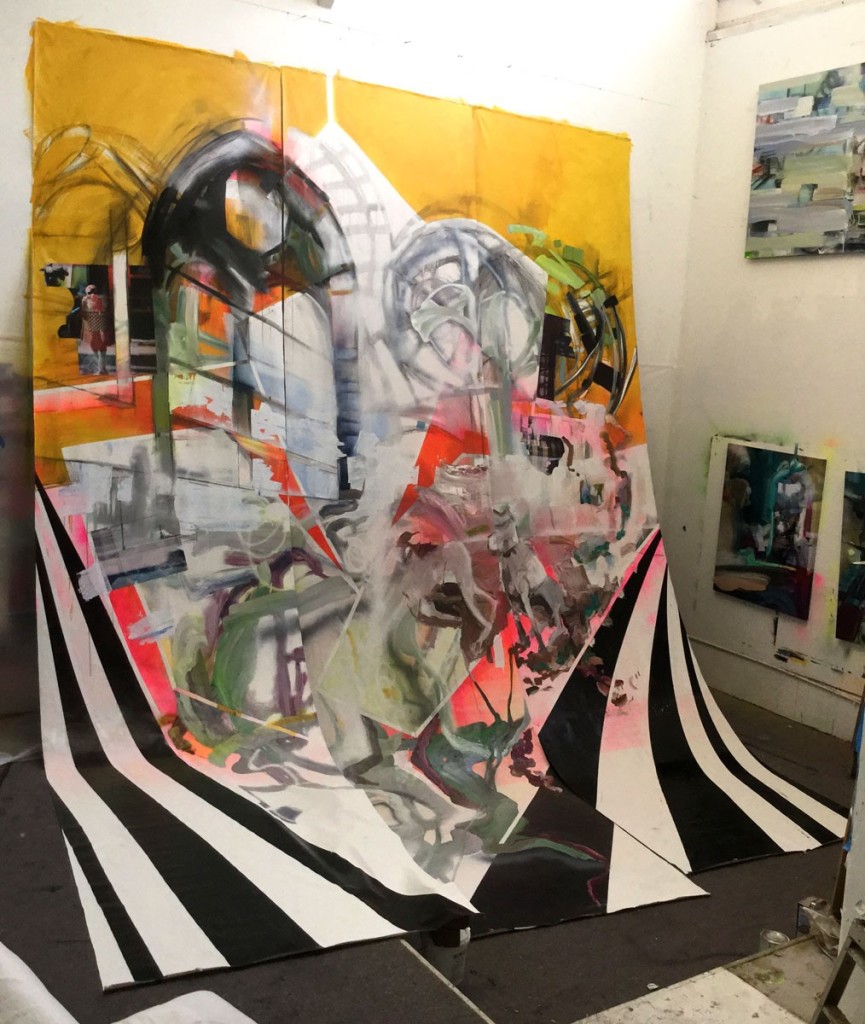 Yvette Gellis, Without Time, 2015. Mixed media, 548.64 x 426.72 cm.
CAMAC-Centre d'art Marnay Art Center
"Somewhere Without Time" with YVETTE GELLIS (Los Angeles) And REBECCA BOURNIGAULT(Paris)
EGLISE SAINT-JACQUES
10370 DIVAL
FRANCE
September 17th – October 4th
Opening Reception
Thursday, September 17TH, 2015
7:00 pm
www.camac.org
Somewhere Without Time marks the first collaborative project between Yvette Gellis (Los Angeles) and Rebecca Bournigault (Paris). Using a gutted 14th Century church outside Paris, the two artists will combine video, painting and installation to merge multiple processes and concepts. Responding to the surrounding architecture and to each artist's respective bodies of work, they will forge new territories, opening up a dialogue about contemporary art and its self-imposed boundaries.

About the artists:
American artist Yvette Gellis strives to expand upon the boundaries of painting while remaining ever-conscious of historical precedents. After attending UCLA and Art Center College of Design in Pasadena, she received her MFA in 2008 from Claremont Graduate University. A wanderer, Gellis records her perceptions like metaphorical footnotes: the textures, imagery and marks imprinted everywhere transform into a kind of mind map of daily life. Her fascination with the decay of architectural buildings and spaces led her to examine how perception informs the everyday. She states, "Memory contained in spaces cannot be erased. There is something beyond the physical world where thoughts transmute into 'things,' objects, formations in literal space and time, and my investment involves extracting meaning wherein the sacred and the profane co-exist." The structures she sets up for painting echo or reiterate the impermanent and mutable states depicted in her work—or, put another way: her painting is not simply static, an illusion or a picture of an event, but rather allows for participation in the event itself.
"Merging painting and architecture, she reverses the usual relationship of the two disciplines; instead of employing painting as architectural embellishment, she uses architectural space at the service of painterly gesture. Filling three-dimensional lines of force and broad two-dimensional strokes, the space allotted dissolves and entraps viewers—visually and spatially—in a welter of brittle, aggressive forms, both geometric and organic." (Peter Frank)
Selected exhibitions: LAX Airport, LAMAG Dept. of Cultural Affairs; The East–Gate Museum and Cao Shan Dong Men Art Museum, Yangmingshan, Taipei; Toomey-Tourell, San Francisco; The Torrance Art Museum, California; Fellows of Contemporary Art Los Angeles /MBA Museum Dallas, Texas; 18th Street Arts Center, Los Angeles; and KimLight/LIGHTBOX, Los Angeles.
Upcoming exhibitions: The Pasadena Museum of California Art; Soulangh Artist Village, Taiwan; and Brunnhofer Galerie, Austria.

Rebecca Bournigault is a contemporary portraitist who works mainly in video but also uses drawing, painting, and photography. Her pieces alternate between realistic depiction and the more fictive mode of the icon. Capturing moments of intensity or tension, she reveals a complexity in identity that cannot be reduced to the stereotypical discourse used in TV reality shows and talk shows. She positions the visitor in front of a camera and screen where he or she sees an enlarged projection of themselves (Portraits temps réel, 1994); or she asks people to describe their own bodies, thus rendering explicit our awareness of how others see us, with volunteers nearly always describing only the parts that are visible (Portraits corps, 2001). She also highlights the form of latent violence at work in this imperative of admission. For Portraits je t'aime, the artist asked people (figures from the underground, mostly friends and family, and an actor in particular) to say those three hallowed words—"I love you"—in front of the camera. "In a way—exorbitant paradox of language—to say I-love-you is to proceed as if there were not a theatre of speech, and this word is always true (has no other referent than its utterance: it is a performative)" (Roland Barthes, A Lover's Discourse, Fragments). Observing their reactions, our curiosity and voyeurism aroused, we see and hear these individuals revealing their intimate selves by their gestures, words and silences. Bournigault raises questions relating to these first-person responses (Julien Blanpied).
Selected exhibitions: 18th street art center, Los Angeles; Palais de Tokyo, Paris; PS1 museum, New York; Musée D'Art moderne, Paris; Yokohama Culture Fondation, Japan; French Institute, Dusseldorf & Köln; CAN Neuchatel Art center; Nuits blanches, Paris (Curator: Martin Bethenod); Centre Pompidou, Paris.
Director: Jean-Yves Coffre
Camac Centre d'Art Marnay Art Centre
1 Grande Rue
10400 Marnay sur Seine
France
T +33 3 25 39 20 61 / T +33 6 63 79 60 54
jycoffre@camac.org